Wood Look Tile
It's clear to see that wood look flooring is one trend that is here to stay. Residential homes are seeing a spike in the trend due to the character wood look flooring can bring to a room. Tile adds to that trend with its new wood look, giving homeowner's the best of both worlds with durability, easy maintenance, and refined design style. Porcelain and ceramic tiles can be found in wood look varieties, and are both affordable and long-lasting flooring options. Brewer Carpet One Floor & Home is your local retailer for all your wood look tile needs. Our flooring professionals can work with you to find the best wood look tile for your space.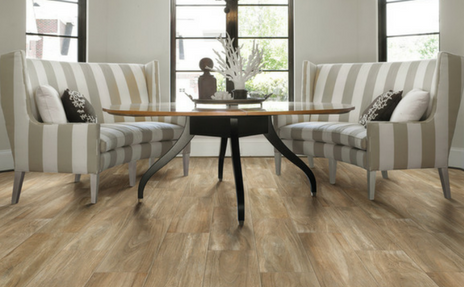 How is wood look tile made? By using printing technology, actual photographs are used to create tile that looks nearly identical to hardwood. From white oak hardwood to dark-stained pine, this technology can recreate hardwood looks that people love, while giving the amazing benefits of tile. Just like hardwood, wood look tile can also come in different shapes and sizes. While you may want to stick to a trend and go for a small rectangular shape, others might be looking for something traditional like a rectangle. Either way, wood look tiles are available in both.
Benefits of Wood Look Tile
Unlike solid hardwood, wood look tile can be installed in any room of your home. Bathrooms and kitchens where moisture is common are ideal rooms for wood look tile because they bring warmth to an unexpected space. Bedrooms, living rooms, stairs, and hallways are also good for wood look tile because the upkeep with tile is low.
Cleaning tile is essential to keeping it looking its best, and sweeping up dust is the first step. Mopping or using a liquid cleaner with a rag is also a good routine to get into to ensure satisfaction of your wood look tile.