Hardwood Flooring from Provenza
As your local flooring retailer, Brewer Carpet One Floor & Home is your source for new hardwood flooring. We are proud to offer our customers a wide collection of quality hardwood flooring and brand names such as Provenza. Provenza Floors is a manufacturer of custom, commercial, residential and eco-friendly flooring. They offer over 36 years of experience in creating the most advanced, stylish, and unrivaled quality hardwood flooring, Provenza offers wood floor collections that are unique, handcrafted and of long-lasting value in an assortment of colors, finishes, and species.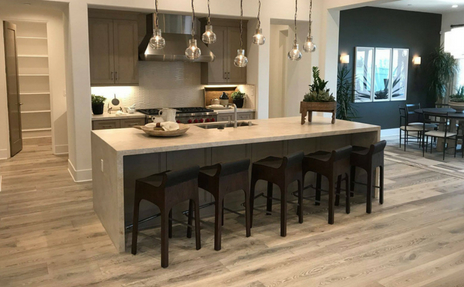 Provenza creates custom wood floors that range from wood species, colors, stains, finishes, rustic characteristics like hand scraping, hand embossing, wire brushing, hand staining, hand distressing, all resulting in beautiful custom wood floors that are both an investment and a treasure for your home. These custom hardwood floors arrive at your home as a one-of-a-kind masterpiece for those who want a truly custom look for their home.
We want to you to consider hardwood flooring as an investment into your home. Provenza custom hardwood floors are long-lasting, stylish, and value adding. If you have a one-of-a-kind hardwood floor in your home, you set yourself apart from everyone else. Caring for your hardwood floor not only preserves the look, but also increases the excepted lifecycle of the floor itself.
Be sure to visit one of our showroom locations in Enid, Stillwater, Yukon, Edmond, or Oklahoma City, OK, and speak with one of our flooring professionals about choosing a custom Provenza hardwood floor for your home.